Live A/V Electropia I  Transmediale Gruppenausstellung
19. November 2022 ab 17.00h - 00.00h
Palais Salm
Salmgasse 6, 1030 Vienna
Electropia Live & 
4youreye Live Projection Art 
www.4youreye-projection.design
Gruppenausstellung mit:
Aufrund von Kapazitätslimits bitten wir um Anmeldung für garantierten Einlass unter:
electropia.art@posteo.de
Gefördert von Stadt Wien Kultur & Bezirk Margareten
LET ME PLAY AMONG THE STARS, 2019
Was die Kunstwelt mit Self-Improvement-Apps verbindet, ist der ewige Kampf gegen sich selbst. Die selbstauferlegte Leistungsschau und permanenten Optimierungsprozesse werden zum Kampf gegen die eigene Person. 
In den neuen Arbeiten mit dem Titel "Let me play among the stars" verbindet Catharina Bond den konzeptionellen Überbau der Leistungssteigerung mit Evergreens der aktuell populären Kunstproduktion. Klare Formen, bisschen Stahl, massiv melodramatische Materialien mit einem Touch Neon. 
Bei dieser ästhetischen und inhaltlichen Höchstleistung darf das Elementarste der selbstoptimierten Kunstwelt nicht fehlen: Das vorprogrammierte Scheitern.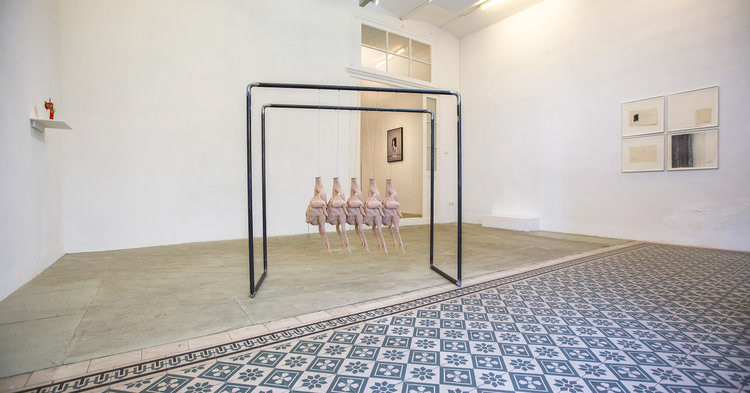 LET ME PLAY AMONG THE STARS, 2019
What the art world has in common with self-improvement apps is the eternal struggle against oneself, undertaken through self-imposed exhibition and never-ending optimization processes. 
In the new works entitled "Let me play among the stars," Catharina Bond connects the conceptual superstructure of performance improvement with popular evergreens of today's art production. Clear forms, a little steel, massive, melodramatic materials with a touch of neon. 
And with aesthetics and content at such a high level, we mustn't forget the most essential element of the self-optimized art world: the pre-programmed failure. 
SPACIFIC - Video Loop, 2022
Geboren 1974 in Friesach, Kärnten, Österreich lebt und arbeitet in Wien, Österreich. 2003 - 2009 Universität für Angewandte Kunst /Photographie.
Auf seinen Fußmärschen fühlte er sich wie ein Entdeckungsreisender auf der Suche nach Landschaften, die noch nicht katalogisiert, kartografiert, abgebildet oder beschrieben waren. Doch was er vorfand waren Landschaften, die er bereits kannte, die sich ihm in ihrer Vollkommenheit präsentierten und ein ungeahntes Gefühl der Unordnung hinterließen. Er versuchte, Leerstellen mit anderen Leerstellen zu füllen und dadurch eine Ordnung zu finden.        
MONUMENT FOR A DEAD TREE - 99 x 123 cm, C-Print, 1/3 + 1AP, 2019
BATIS, 2021 I FURIANI, 2021 I MOMENT, 2020
Luminograms, 50 x 40 cm, silver gelatine, hand proof, Baryta paper
Das elektromagnetische Wahrnehmungs-Spektrum eines Menschen ist begrenzt. Die Lichtkünstlerin Annika Hippler beschreibt jenen Bereich des elektromagnetischen Spektrums, den das menschliche Auge wahrnehmen kann (405 – 780 Nanometer).
Annika Hippler verwendet Laserstrahlen, Folien, Prismen und fluoreszierenden Pigmente in fragil poetischer Weise. Für ihr Publikum macht sie das von Natur aus flüchtige Material Licht, erlebbar.
Für ihre plastisch wirkenden Luminogramme, projiziert sie in einem analogen Verfahren einen Linienlaser über bewegte Wasseroberflächen und reflektierendes Fotopapier. Mit dieser Methode der Lichtkinetik schließt sie direkt an die Arbeiten von historisch bedeutenden Künstlern wie Otto Piene oder Man Ray.
Annika Hippler, lebt und arbeitet in Berlin. Studium in Berlin, Universität der Künste und Braunschweig bei Frances Scholz.
Ausstellungen: ZKM in Karlsruhe; Zverev Center for Contemporary Art in Moskau; Kunstverein Hannover; Wilhelm Hack Museum; 2015 nominiert für International Light Award.  2022 documenta, Kassel.
Artist-in-Residence: Tuscan Art Center, Siena, Italy Artist-in-Residence, Bildraum Studio, Vienna, Austria Bangalore – Berlin, Artist Exchange Residency, 1Shanthiroad, Bangalore, India
100 x100 cm, Barytabzug, geknüllt, Unikat/nicht reproduzierbar
MAHIR JAHMAL 
Born in Vienna 1986, works and lives in Vienna. Studied fine arts/photography at the University of Applied Arts Vienna Continuously evolving, Mahir Jahmal's work is in motion, at times until the liberation from the subject.
Originating in large format analog photography, his work investigates the boundaries of the medium. By experimenting in the darkroom he explores possible transitions from traditional photography into new forms of artistic practice. In his process, elements of painting merge with photography. The crumpling of the paper adds sculptural shapes that leave a relief-like impression. Urban motifs dissolve into graphic structures and often the underlying motif only emerges at second glance. In the framework of Jahmal's images, blank spots, paper ruptures, and optical blurs constitute rugged landscapes that leave an impression of a rugged reality.
If necessary, he foregoes camera, chemicals, and negatives all together and develops photographic techniques that create mysterious images which defy stereotypes and allow for new perspectives. Text by Lena Ures, Photo Oliver Jiszda.